10X5
I stole this from
God's Child
a while ago but was saving it for a day I felt lazy. That day has come! So it's supposed to be five categories with five answers, but I'm not feeling that lazy…so it's 10 categories of five answers. Enjoy!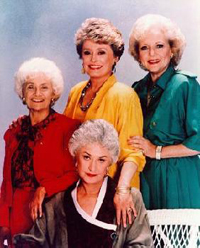 Five (5) Favorite TV Shows No Longer Currently On the Air
1.
The Golden Girls
(favorite episode…when Blanche tales Dorothy to the Rusty Anchor and she becomes a lounge singer!)
2.
Good Times
(even though nobody had them)
3.
What's Happenin'
(Dee was my nigga!)
4.
Martin
(the early episodes)
5.
Recess
(Disney just pulled the plug on this show…what happened!?)
Five (5) of Life's Simple Joys
1. Watching the sun come up over the beach
2. Being able to describe God's work to some sense of satisfaction
3. My Godbaby (Love him!)
4. The closeness of my family
5. Being comfortable
Five (5) Movies I've Seen Too Many Times to Count
1.
Dirty Dancing
(Nobody puts Baby in a corner)
2.
Clueless
(Why am I listening to you, you are a virgin who can't drive)
3.
Bring It On
(This is not a democracy, it's a cheer-ocracy)
4.
Mommie Dearest
(Christina…bring me the axe!!)
5.
Boomerang
(I know gay when I see gay!)
Five (5) Favorite John Mayer songs
1.
3x5
(Today I finally overcame tryin' to fit the world inside a picture frame)
2.
Neon
(It's hard for me to take a stand, when I could take you anyways I can)
3.
Daughters
(Girls become loves who turn into mothers so mothers be good to your daughter too)
4.
Something's Missing
(I wish there was an over the counter test, for loneliness, for loneliness like this)
5.
City Love
(From the battery, to the gallery it's the kind of thing you only see in scented, glossy magazines)
Five (5) Favorite Albums of All Time
1. Songs in the Key of Life, Stevie Wonder
2. Voodoo, D'Angelo
3. Mama's Gun, Erykah Badu
4. The Chronic 2001, Dr. Dre
5. Love is Stronger Than Pride, Sade
**Bonus**
Can't live without Urban Hang Suite, Maxwell
Five (5) Things I Carry in My Purse
1. Two types of lip gloss…Spring Bean (sheer-shiny) and Angel Wing (berry color)
2. Afro pic
3. Digital recorder
4. Wet Naps (you never know when you need them)
5. A Crabby Patty

Five (5) Favorite Magazines
1.Elle
2. Blender
3. Rolling Stone
4. Essence
5. Vibe

Five (5) Favorite Writers (damn, this is a hard one)
1. Nikki Giovanni
2. Toure
3. Cheo Hodari Coker
4. Alice Walker
5. Pearl Cleage

Five (5) Things I Despise

1. Wack Christmas decorations
2. Fake people (hard to interview)
3. Ordinary people (they don't know which way to go)
4. Weave (you know you hate it too)
5. Bad makeup
Five (5) Things I'd Rather Be Doing
1. Watching a Spike Lee joint
2. Watching the Tyra Banks show
3. Eating waffles and strawberries
4. "It"
5. Going back to sleep