My Lack of Focus and Other Things
So my flaws have just smacked me in my face. I messed up on this big project at work, right after the boss gave me all this new responsibility. This sucks. And just yesterday I had to look at myself for the slacker I am. I get by on my natural ability and don't put much effort into a lot of things. So, since one of my goals for this year is to work harder, I guess now is a better time than any. I need to recruit an accountability partner to can get in my ass when I'm being lazy and cocky. I just think of how much farther I can be in my writing career if I was more focused.
I've been trying to figure out why I don't have any money. I just got a raise at work, I have no kids or anything like. No real credit issues. No outstanding bills. But no money. And nothing really to show for it. I have a 70/30 budget, which is a modified version of
the 60/40 budget
. Basically, I try to use 70 percent of my money for essentials: rent, car, utilities, groceries and those types of expenses. I use 10 percent toward debt, 10 percent to save and 10 percent to kick it. Sounds good on paper, right? But every time, a week after payday, I'm looking at my dwindled bank account and can't seem t find the leak. So in two weeks, I'm going to try again.
Did anybody see
American Idol
last night? What was up with that girl (I think her name was Michelle or Rochelle) who was "homeless" yet had a coalition of people with her name on their shirts? If those were her friends, they aren't very good ones. Chick was rockin' a fresh weave and some dope sunglasses, but her sob story was that she was evicted, moved in with her cousin and now they were getting evicted next week. There was so much wrong with that story. And why should we (as Idol voters) feel sorry for her, a competent, stylish young woman, who can't a job? She could sing though, but I don't buy that sob story.
I just peeped the new
Black Eyed Peas
video last night too. It's a posse cut called
Like That
featuring
Cee-lo, Q-Tip, Talib Kweli
and
John Legend
. Yeah, it's as hot as it sounds. Which means it is a really good song, because I don't like BEP. However, it made me think a lot about hip hop excess. Is it really necessary to have Fergie, Cee-lo (who didn't spit a verse) and John Legend on the hook? Rappers just don't know the meaning of downsizing I guess.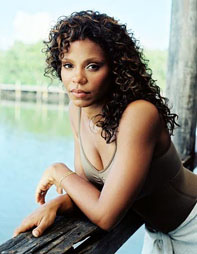 Okay, so anyone who has seen the trailer for
Sanaa Lathan's
new movie,
Something New
, should automatically think of me. My fascination with having a white boyfriend (well, having John Mayer) is finally playing out on film. Somebody needs to give me some pointers on where to land a musician/artsy type white boy. Some places to hang out in Columbus. You know, it's for your entertainment too!
Mood:
The weather here in Columbus is awesome…it is a beautiful, sunny day. Can't wait to get outside and squeeze in a 30-minute walk.
Song For Today:
When I Think of You
, Janet Jackson. No I'm not in love…it's just a good song.