Death and Poetry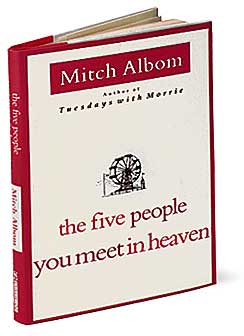 I finished reading
The Five People You Meet in Heaven by Mitch Albom
yesterday. As the title suggests, the story is about a man who dies and meets five people in the afterlife who answer questions about his life. It totally debunks the idea of the harps and angels heaven that many Christians have been brought up believing in. This book pays no favorites to religions, so anyone with or without a specific faith should find it intriguing, yet non-offensive. It is a very comforting idea that the best thing God could do for you is give you an explanation to why your life is the way it was. It's a great, short read that will make you think hard about your life and how you spend it. There is also a movie for this book, but I forgot about renting it this weekend…maybe next weekend.
Up next:
Reading, Writing and Leaving Home: Life on the Page
by Lynn Freed.
Speaking of death, I almost died last night after joining my friend Rhyan at a level four, boot camp class at
California Fitness
last night. I swear, I thought I was going to throw up after the mountain climbers. The teacher was the kind that would make you run if you weren't yelling loud enough. I cannot yell, punch, kick and stay on count all at the same time. That takes lots of concentration. Well, I survived and completed the class (yeah!) and Rhyan, being a former Marine can't wait to go back. I'll have my ass in Step class at Bally's thank you!
Despite my flesh wanting to stay in and watch American Idol tonight, I will be heading out to
Black Pearl Poetry
, with feature
Taalam Acey
and a poetry slam. Should be a rather exciting night of spoken word, don't you agree? Come out and say 'hey' to me tonight!
Also, on Wednesday,
The Art
will be back in effect featuring
The Rebirth
and my boy
Cyrus Baty
at Long Street Live starting around 9p.m. If you've never been to The Art, it is a mix of visual art, poetry, music and vendors. If you want to see the pictures from my photo shoot on Sunday, you can drop by my girl
Triumph's
booth. She has captured some of the most intriguing people in central Ohio (myself being one of them) so if you want to be immortalized, hit her up. Of course, The Pink Ghetto will be in the house and providing the scoop on what happened, just in case you can't make it out. But you should come out, so I'll see you there!
Song For Today:
Little L
by Jamiroquai…where are all the JayKay fans at?
BTW:
For people who were off work yesterday…it's Tuesday. I'll holla!