I Got A House...Way Over Town
Get down Donna, go 'head get down…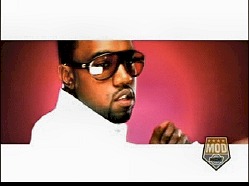 Get down Donna go 'head get down…
Well I'm sayin' I'm a homeowner…but…well, I don't know how to rhyme with that. The deal is done, after much negotiations, disappointments and joy…the contracts have all been accepted and I'm about three weeks away from home ownership! Yeah!
I mean, who else can say that
Jackie "FreedomSuite" Stepherson
and
Stan "The Brooklyn Butcher"
Simmons helped them to get their first home? The whole situation started out real fly, I must say.
So onto the fuss about closings, packing, moving, new hardwood floors being installed, wall colors, wanting to decorate and all the perils of owning. Once I move in I'll show you all photos. But onto more important things…
Ding Dong Furonda's Gone!
Now if I got an email from Furonda saying I was dissing her on The Pink Ghetto, she would have much merit! I think I feel worse for Nnena, who according to Tyra and Co. is a suckier model than this

Furonda is so extra and irrelevant. You gotta bless her heart for trying so hard. The panel called her entertaining. Chris Rock is entertaining. When people laugh with you, that's entertainment. When people are laughing at you because you are making an ass of their culture, that's tomfoolery. Maybe Nick Cannon will give her a job on Wildn' Out (however you spell that).
My prediction to win: I want Jade to win...I see them trying to make a case to get rid of Joanie (the lack of personality clause). Danielle is my pick though. For being a fabulous model and having to endure Third World country health care and having to close up her beautiful gap. Phuck the drama over her accent...everybody on the damn panel has one, why can't Danielle?

As I close, I just want to give sincere thanks to all of the people who make this blog daily and required reading. You know, all a writer ever wants is for their words to be meaningful, make change, start controversy and be heard. All those hits will make me famous, and I promise to shout you out when I get my book deal. Thanks!

CD Reviews: I dissed a CD! Oh, how I hate to do that! Check out my review of Kulcha Don's new one.

Stay Tuned: Creamy Crack updates next week with my girl PTosh's shocking new hairdo!

Song For Today: We Major by Kanye West (Feeling better than I ever felt before today!)
Once Again: Pink Ghetto on MySpace.com...make sure to subscribe and ask to be added to my preffered viewers list...I'll be doing extra special things over there!